Customer Engagement Model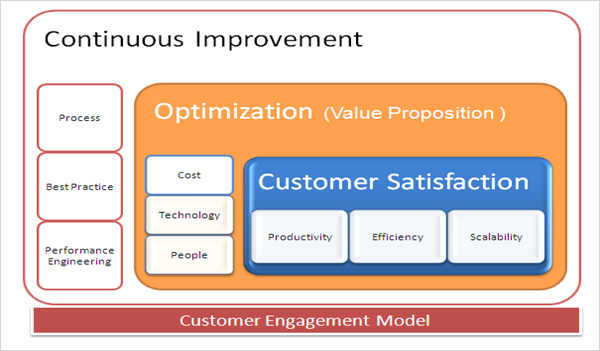 Our Engagement with the clients are focused on the 3 pillars
Continuous Improvement
Process: Process is applied to all Projects/tasks to ensure continuous improvement and increasingly more mature winning approaches to the Project delivery. Processes such as ITIL (Information Technology Infrastructure Library), ITSM (IT Service Management), CMMi (Capability Maturity Model Integration) etc., are the key techniques we do embrace while embarking on an Assignment.
Best Practices: Best Practices are used to deliver high-quality output. We at Tutelage record the techniques, standards and processes which have accomplished winning results to customers. Good operating practices are those which are stable and has a well-defined strategic plan and also resilient.
Performance Engineering: Measurement is the key to Performance Engineering. Adequate tools are used to benchmark the operating life cycle.
Optimization ( Value Proposition)
Cost: Who doesn't desire to run their business as a profit center? Every customer wants to run their business in profit. Cost is the key denominator and if not factored or taken care appropriately can lead to over spending and not yielding a value to the customers bottom-line to their growth. We do take care each component to ensure the cost is optimal and adds a benefit to the cost incurred.
Technology: With numerous technologies in place it is extremely important to know what technology we choose. This is certainly has to be kept in mind for a long term approach and avoid often migration and complete re-design.
People: Human Capital or Human resource is the integral or focal point in any organization success. Optimizing the people process is to have a model which drives efficiency, effectiveness and productivity. How is your hiring framework? What is your orientation model? How is your Learning and development framework? What is your retention statistics?
Customer Satisfaction
Productivity:We optimize the process variables such that the productivity is met and utilization is balanced. Are we producing high and at the same time are our resources fully utilized. We ensure the right talent/automation is used to meet the customer goals and objectives thus meeting the end-goal successfully.
Efficiency: High efficiency is achieved by optimizing the usage of the resource and the cost.
Scalability: Any deployment should be taken care by creating a vacuum to scale the product or the scope of the project. Right technology and right practices are designed to support the scalability for future growth.